The Hug of the Tiger
A Theater Studies Senior Project in Acting for Yesim Celebi
by Kemal Hamamcıoğlu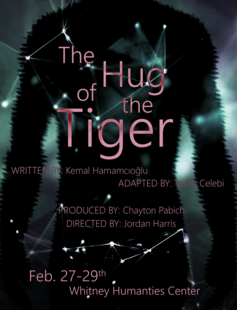 "Do you know what loneliness tastes like? It tastes like the dark chocolate long forgotten on the lowest shelf of a fridge." The Hug of the Tiger follows the story of a woman who, in hopes of leaving her solitude behind, decides to enter the happiness room. She knows her 'type', she knows her options… The plan is simple: walk in, spend the night with the man of your dreams, walk out. However, her unexpected interaction with the voice in the room changes the course of the very well planned events for the night. Is it possible to have a real conversation with a device? How honest can you be with someone/something you just met? What about with yourself? This tragicomic story of the woman allows its audience to witness her journey in an attempt to reach for happiness while trying to tackle these questions. 
For all inquiries, please contact:
Performance Dates & Times
February 27, 2020 - 8:00pm
February 28, 2020 - 8:00pm
February 29, 2020 - 2:00pm
February 29, 2020 - 8:00pm
Location
Theater, Dance, and Performance Studies Black Box
Venue Accessibility:
Building is accessible via a ramp on the Church Street side. Venue and facilities are located on the main floor.