Home: A Telltale Show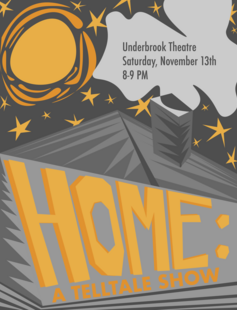 After a 20-month hiatus, Telltale is back! We've missed you. At this show, we'll be telling stories about home.
For some of us, the pandemic meant spending lots of time at home. For others of us, it meant that we weren't able to go home. We've been dispersed across the world, and now we are back together again. This show is a celebration of our return, and a reflection on where it is we're coming from. It's an opportunity to think about what home means to you, and to hear about what it means to others — its delights, its challenges, and how your relationship to it may be changing. Stories can be silly, serious, and everywhere in between. 
For all inquiries, please contact:
Performance Dates & Times
November 13, 2021 - 8:00pm
Location
Venue Accessibility:
Lobby is accessible via elevator near the Head of College's office inside entryway I. Balcony level seating is accessible via lobby entrance. Stage level seating requires the use of stairs.