Frankenstein
by Gabriel Christian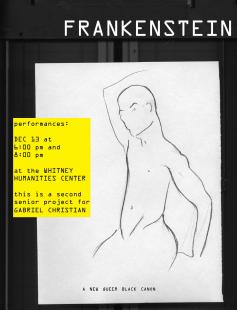 This is I mean this is I think the best time to be black or gay in the history of America.Be kind with the monster.Some assembly required.A (second) Senior Project for Gabriel Christian.
For all inquiries, please contact:
Performance Dates & Times
December 13, 2013 - 6:00pm
December 13, 2013 - 8:00pm
Location
Theater, Dance, and Performance Studies Black Box
Venue Accessibility:
Building is accessible via a ramp on the Church Street side. Venue and facilities are located on the main floor.