A Faint Recollection
Dramat BIPOC Theatremakers Festival Remote Play
by Diza Hendrawan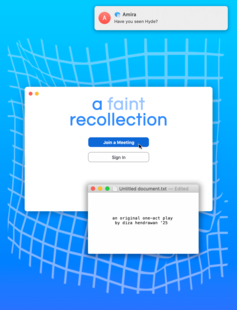 Only Luz, Amira, Milo, and Junpei have bothered to show up for their Zoom meeting today. No one is surprised, since their missing link, Hyde, is the type to be late for the sake of intrigue. What bewilders them instead is their collective inability to recall any part of the last 24 hours. As Hyde's disappearance persists, the warier the group becomes of the events that transpired during forgotten time.
A Faint Recollection is a 45min. digital murder-mystery about four friends navigating evidence, accusations, and well-kept secrets to uncover the truth behind their missing friend's disappearance. 
For all inquiries, please contact:
Performance Dates & Times
May 8, 2021 - 8:00pm
Location
Venue Accessibility:
Contact the email listed above or the producer for inquiries regarding accessibility.