Elle est là
She did not speak. But she made up her mind.
by Nathalie Sarraute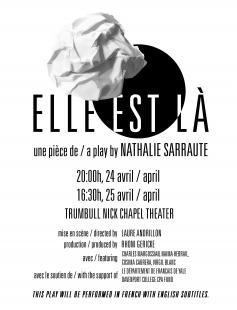 Elle est là is the story of one man's obsession. It explores the nature of ideas and intolerance, his struggles with isolation and doubt, and his quest to find and protect the Truth - whatever the cost.Elle est là will be performed in French with English subtitles.
Performance Dates & Times
April 24, 2014 - 8:00pm
April 25, 2014 - 4:30pm
For all inquiries, please contact: