Early Works by Paul Taylor
by Yale Dance Theater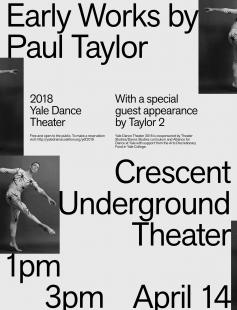 Yale Dance Theater's 2018 project focused on the early choreography of Paul Taylor. A groundbreaking artist, Taylor has been a leading force in the development of American modern dance since he emerged as a singular choreographic voice in the mid-twentieth century. Taylor continues to create new work and lead his internationally-renowned company to this day. 
Guided by guest artists from the Paul Taylor Dance Company, YDT has served as a laboratory for the reconstruction of "Party Mix," a 1963 dance that has not been seen in four decades. 
Come out to see this dance piece, and others, performed by students and members of the Paul Taylor Dance Company.
Performance Dates & Times
April 14, 2018 - 1:00pm
April 14, 2018 - 3:00pm
For all inquiries, please contact:
Patron Information
Patrons should arrive at the theater 15 minutes before the performance to claim their reservation. At the scheduled performance time, patrons will be let in off of the waitlist.