"A Duckumentary": The Odd Ducks Comedy Recruitment Show
QUACK QUACK The Odd Ducks are BACK! Sketch and Stand Up Comedy for all of Yale to enjoy.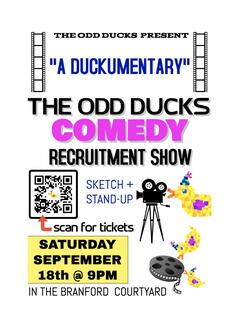 Welcome to The Odd Ducks Fall 2021 Recruitment Show! The show will occur in the mini courtyard in Branford College (connected to the middle of large courtyard). Come to laugh, to cry, and to maybe even never want to see us ever again! See ya there!
LINK TO THE FREE TICKETS (you must register before the show)
Our Odditions will be occurring in the week following the show. So if you're interested in joining The Odd Ducks be sure to sign up after the show and/or talk to one of the members!
All attendees must be vaccinated students.
 
About us:
We are Yale's first and ONLY comedy organization that features both sketch and stand-up comedy. Formed in the spring of 2016, we are an inclusive group that encourages creativity and freedom in the field of comedy. We acknowledge that people starting out in comedy may not want to try everything from the start, so we offer positions for people to specialize in stand-up, acting, or writing. We have various shows each semester and invite the entire Yale community to see us perform. WE WILL QUACK YOU UP!
For all inquiries, please contact:
Performance Dates & Times
September 18, 2021 - 9:00pm
Location
Branford College - Mini Courtyard
Patron Information
All attendees must be vaccinated students.