Day 3 - YSFF 2022: Ukrainian Filmmaker Panel (Zoom event)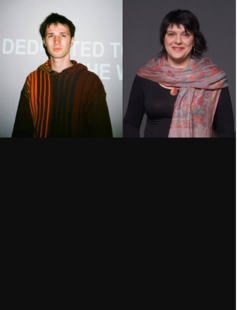 On Day 3, the Yale Student Film Festival presents a panel with Yerema Malashchuk, Ukrainian artist and filmmaker, and Olga Zhurhzhenko, Ukrainian film producer on the theme of Local Voices.
About the panelists: 
Yarema Malashchuk lives and works in Kyiv, Ukraine. Graduated as a cinematographer from the Institute of Screen Arts (Kyiv, Ukraine). Since 2012 working on the edge of visual art and cinema as an artist and filmmaker. In his film works, he explores the image of the crowd, as a separate character in history and culture. Mostly working in a group with Roman Himey. Awarded with Main Award at PinchukArtCentre Prize 2020, Grand Prix at Young Ukrainian Artists Award (MUHi 2019), VISIO Young Talent Acquisition Prize, Participated in multiple exhibitions and film festivals, among them Future Generation Art Prize 2021, Baltic Triennial 14, e-flux Video & Film, post C-MAP MoMA, Docudays UA IFF, Der Katalysator at Museum Morsbroich, Dance of Urgency at MuseumsQuartier, Can't Get You Out of My Head by HMKV Dortmund, Charim Gallery in Vienna and many more. His debut feature documentary New Jerusalem received Special Mention at Kharkiv Meetdocs IFF 2020.
Olga Zhurzhenko is a professional film producer from Ukraine. In 2014, her first feature The Trumpeter was released, it is a musical comedy, first of the genre produced in Ukrainian language, labeled "Hollywood quality" by the press. Since then it has been distributed both in nationwide in Ukraine as well as  worldwide and can be found on iTunes. Starting 2016 she created and participated in successful promo-campaigns for an Oscar submissions. Other projects behind her back include a number of TV films, documentaries and shorts. Olga is a member of Producer's Guild of America and European and Ukrainian Film Academies. In 2011 Olga finished year-long MIDPOINT TV Launch workshop as a Development executive - a role overseeing the creative development of TV series At the moment, her company's slate includes screen adaptation of well known Ukrainian book "Fieldwork in Ukrainian Sex", a feature dramedy "Average life", as well as a series about one of the most notorious and bloody inmate appraisals in GULAG concentration camps history. Olga aims to create content which will easily travel the world, entertain and inspire for positive changes. Olga aims to keep on propelling filmmaker's access to the world through her knowledge of different territories, languages, market strategies, distribution tactics and outsourcing opportunities.
The event will take place on Friday, April 22, at 1:30pm on Zoom.
Zoom link: 
Join from PC, Mac, Linux, iOS or Android: https://yale.zoom.us/j/91486712253 
    Or Telephone:203-432-9666 (2-ZOOM if on-campus) or 646 568 7788
    Meeting ID: 914 8671 2253
    International numbers available: https://yale.zoom.us/u/aeInKhdgSF 
For H.323 and SIP information for video conferencing units please click here: https://yale.service-now.com/it?id=support_article&sys_id=434b72d3db9e8fc83514b1c0ef961924
About the Yale Student Film Festival: 
The Yale Student Film Festival (YSFF) is a student-run short film festival that provides the opportunity for university-level filmmakers across the globe to exhibit their work. Founded in 2015, the festival, through its free submission platform, celebrates emerging student work from those taking the first steps towards a professional career, and aims to provide a platform to encourage conversation and camaraderie across schools and experiences.
This year's theme is Local Voices. We are committed to highlighting narratives and filmmakers from the New Haven area, as well as engaging with the community at large.
Patron Information
Join the conversation on Zoom
https://yale.zoom.us/j/91486712253