Contemporaries: A Staged Reading
by Erica Wachs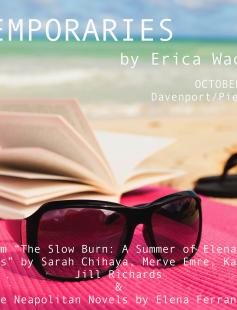 Tickets for the reading are live: https://contemporaries_tickets.eventbrite.com 
ADAPTED FROM The Slow Burn: A Summer of Elena Ferrante's Neapolitan Novels by Sarah Chihaya, Merve Emre, Katherine Hill, and Jill Richards 
"I'm actually doing really well. I just bought a functional air conditioner for my apartment, I'm working on a new manuscript, and I don't wake up everyday in the skin of a fictional character." 
"Contemporaries", an original play by Erica Wachs, inspired by/adapted from the Slow Burn series on Post45, follows the lives of four professors over the course of one summer, writing about Elena Ferrante's Neapolitan Novels, in the hopes of receiving tenure. On female friendship, motherhood, sexism in academia, and becoming your favorite fictional character. 
"Contemporaries" will be presented as a staged reading in the fall, with an eye towards a full production in the spring – details coming soon!
Performance Dates & Times
October 26, 2017 - 7:30pm
October 27, 2017 - 7:30pm
Location
Davenport-Pierson Auditorium
For all inquiries, please contact:
Patron Information
Patrons should arrive at the theater 15 minutes before the performance to claim their reservation. At the scheduled performance time, patrons will be let in off of the waitlist based on when they signed up on the YDC website. Patrons with reservations arriving after this time will be treated as if they are at the top of the waitlist. Please see the full policy 
here
.