Cold Turkey
Why Quit When You've Already Lost?
by Matthew George, Ethan Kuperberg and Will Stephen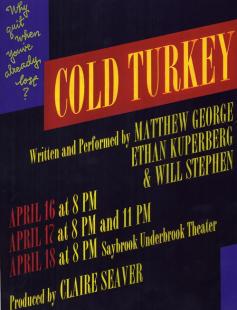 At a school for the troubled and gifted, three misguided youths fatefully come together for an entertainment extravaganza. A cast of dozens played by three talents should lead to a spectacular. Over the course of the play you will like the play.
Performance Dates & Times
April 16, 2009 - 8:00pm
April 17, 2009 - 8:00pm
April 17, 2009 - 11:00pm
April 18, 2009 - 8:00pm
For all inquiries, please contact: