CANCELLED: En La Casa Azul
En La Casa Azul: A Senior Project in Theatre Studies for Cami Arboles
by Cami Arboles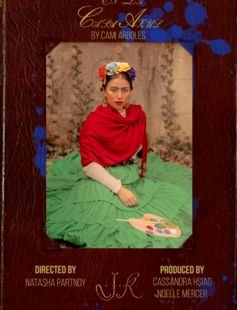 Bienvenidos. You're invited to spend the evening con Frida Kahlo en La Casa Azul.
En La Casa Azul is an original one-act biographical play that chronicles the life of Mexican painter Frida Kahlo. It takes place in her famous home (and now museum) in Coyoacán, Mexico: La Casa Azul, or "The Blue House."
The piece features live Mexican music, singing, and dancing. Throughout the piece, Frida Kahlo reflects on her personal trajectory, her marriage to Diego Rivera, and her complicated relationships between both herself and her art.
The scholarly objective of this project is to engage in thorough research about Latinx identity, Mexican national and indigenous culture, twentieth-century post-colonialism, and intersectional feminism through Frida Kahlo's life and body of work. The artistic objective of this project is to represent and honor often overlooked themes and representations in the theatrical canon today, particularly Latinx communities.
Run time: 1 hour 20 minutes, no intermission.
For all inquiries, please contact:
Performance Dates & Times
April 2, 2020 - 8:00pm
April 3, 2020 - 8:00pm
April 4, 2020 - 2:00pm
April 4, 2020 - 8:00pm
Location
Theater and Performance Studies black box, 53 Wall Street