CANCELLED: The Clean House
Spring 2020 Dramat Mainstage
by Sarah Ruhl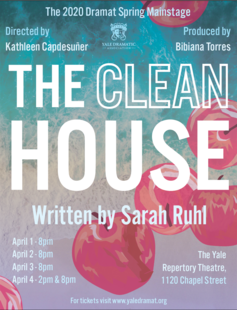 A story about loss, love, change and redemption, The Clean House is both whimsical and touching. Lane, a serious career-oriented doctor, hires Matilde, a Brazilian maid, who dislikes cleaning. Instead, Matilde longs to be a comedienne and dedicates her free time to searching for the perfect joke. Luckily, Lane's sister Virginia loves to clean, and strikes up an unlikely partnership with Matilde. When Lane's husband Charles leaves her for Ana, a passionate, older Argentine woman upon whom he recently performed a mastectomy, these delicate relationships are all put to the test. Sarah Ruhl's enchanting play depicts the resilience of female relationships and the power of comedy in the face of tragedy.
Performance Dates & Times
April 1, 2020 - 8:00pm
April 2, 2020 - 8:00pm
April 3, 2020 - 8:00pm
April 4, 2020 - 2:00pm
April 4, 2020 - 8:00pm
Tickets not yet available, check back soon!
For all inquiries, please contact: