Black Futurity
by Heritage Theater Ensemble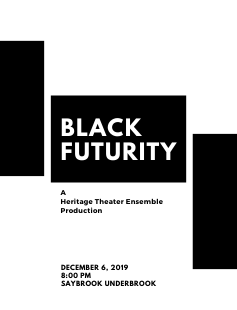 Where does art that calls itself Black fit in a world that so often enjoys divorcing work from its context?
How have Black artists struggled against this in the past?
How can Blackness push the limits of a work's predetermined lifespan?
What does it mean to "think forward" as a people whose identity is often relegated to the past?
For all inquiries, please contact:
Performance Dates & Times
December 6, 2019 - 8:00pm
Location
Venue Accessibility:
Lobby is accessible via elevator near the Head of College's office inside entryway I. Balcony level seating is accessible via lobby entrance. Stage level seating requires the use of stairs.
Patron Information
Free tickets to Black Futurity are available now at tinyurl.com/BlackFuturity.
Please arrive 10-15 minutes prior to the production to check in. Late seating will be permitted.