Ajax in Iraq
A Theater Studies Senior Project in Directing for Alexandra Thomas by Ellen McLaughlin
by Ellen McLaughlin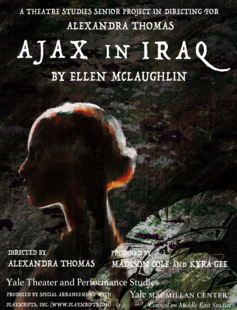 Past and present collide in Ellen McLaughlin's mash-up of Sophocles' classic tragedy Ajax with the modern-day war in Iraq. Inspired by materialcollected from interviews with Iraq war veterans and their families, Ajax in Iraq explores the timeless struggle soldiers face in trying to make sense of war
Ajax in Iraq was made possible through a Pauli Murray College CPA Grant, Theatre and Performance Studies Senior Project funds, and generous donations from the Yale Macmillan Center Council on Middle East Studies, the English Department, and the Women's Center.
CONTENT WARNING: This production contains homophobic and racist language, loud noises including gunshots and prolonged screaming, detailed discussions of war and PTSD, and depictions of sexual assault and suicide.
Performance Dates & Times
April 15, 2021 - 8:00pm
April 16, 2021 - 8:00pm
April 17, 2021 - 2:00pm
April 17, 2021 - 8:00pm
Location
Venue Accessibility:
Contact the email listed above or the producer for inquiries regarding accessibility.