Açude
by Zachary Fuhrer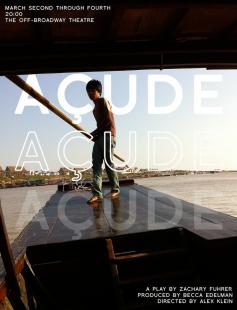 Açude tells the story of a fractious family in the arid sertao of Ceara, Brazil, and their efforts to decide how Caliny, their aging matriarch, should live out her final days. Her American daughter-in-law travels to Brazil with her well-to-do son, hoping to take Caliny to New York City. Meanwhile, Caliny's only living son, Pedro, romanticizes the sertao and refuses to let his mother leave. As the town prays for rain on the holiday of Sao Jose, family loyalties shift and voices from the past ring out clearer than ever before.
For all inquiries, please contact:
Performance Dates & Times
March 2, 2011 - 8:00pm
March 3, 2011 - 8:00pm
March 4, 2011 - 8:00pm
Location
Venue Accessibility:
Building is accessible via a ramp at the main entrance. Seating and facilities are available on the main floor.