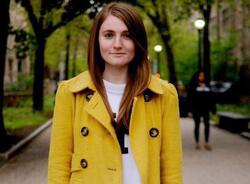 This award honors the memory of Marina Keegan '12, a gifted playwright. Graduating seniors in English and Theater and Performance Studies, as well as seniors in other departments who have studied playwriting at Yale, are invited to submit a portfolio of dramatic writing for consideration – two plays, at least one of them full-length.                                                                                                                                                                                                                                                                                                                                                                                                                                                                                                                                                                                 
2022
Gabrielle Poisson, Pauli Murray College
Gabrielle Poisson's body of work has reflected this extraordinary playwright's magical, almost molecular thinking about feminine adolescence; of tiny acts of becoming; of particular types of familial discord and suffering. Her play Drinking Games is the culmination of years of thinking about the body of the young woman with a luminous mind in a dysfunctional family.
Charlotte Foote, Jonathan Edwards College
Charlotte Foote's beautiful play Ghost Fruit examines the fungible boundary between the material and the immaterial; the soul and the body. Her characters, each in their own way, rebel against and fall in love with the insubstantiality of this boundary, leading all of them to painful and liberating verities.
2021
Marty Chandler, Ezra Stiles College
2020
Walker Caplan, Branford College
Carrie Mannino, Trumbull College
 
2019
Alexis "a.k." Payne, Berkeley College
Rachel Calnek-Sugin, Silliman College
2018
Alexa Derman, Berkeley College
2017
Stefani Kuo, Pierson College
2016
Dave Harris, Jonathan Edwards College
2015
Eric Sirakian, Jonathan Edwards College
2014
Ali Viterbi, Branford College
2013