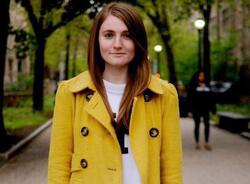 This award honors the memory of Marina Keegan '12, a gifted playwright. Graduating seniors in English and Theater and Performance Studies, as well as seniors in other departments who have studied playwriting at Yale, are invited to submit a portfolio of dramatic writing for consideration – two plays, at least one of them full-length.                                                                                                                                                                                                                                                                                                                                                                                                                                                                                                                                                                                 
2023
Elliot Lewis, Branford College
Elliot Lewis's senior project play, the aptly titled, Take This, and Build Something, is the culmination of his study of playwriting at Yale, and his strongest work to date.  It demonstrates, eloquently, a young writer of empathy and imagination who clearly has big ideas on his mind: parents and children, legacy, inheritance, success, sibling rivalry, to name a few.  May this distinction, in honor of a student of great promise, give him the encouragement to continue honing his craft.
 
2022
Gabrielle Poisson, Pauli Murray College
Charlotte Foote, Jonathan Edwards College
2021
Marty Chandler, Ezra Stiles College
2020
Walker Caplan, Branford College
Carrie Mannino, Trumbull College
 
2019
Alexis "a.k." Payne, Berkeley College
Rachel Calnek-Sugin, Silliman College
2018
Alexa Derman, Berkeley College
2017
Stefani Kuo, Pierson College
2016
Dave Harris, Jonathan Edwards College
2015
Eric Sirakian, Jonathan Edwards College
2014
Ali Viterbi, Branford College
2013