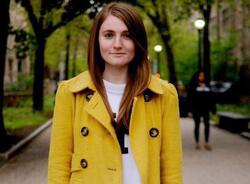 This award honors the memory of Marina Keegan '12, a gifted playwright. Graduating seniors in English and Theater and Performance Studies, as well as seniors in other departments who have studied playwriting at Yale, are invited to submit a portfolio of dramatic writing for consideration – two plays, at least one of them full-length.                                                                                                                                                                                                                                                                                                                                                                                                                                                                                                                                                                                  
2021
Marty Chandler, Ezra Stiles College
Martin Chandler has been a vital and important part of the theater scene at Yale. He completed his senior thesis in Theater and Performance Studies as a live, improvised performance play over Zoom as an experiment of improv in isolation. He submitted two plays, both of which look deeply at the "many-ness" of being human in ways that are both deep and gently humorous.
Schema is a quasi-memory play that "dis/integrates" a human soul to look at its multiplicity in harmony and conflict. A Butterfly in a Barbershop makes the tender ecosystem of a space of public engagement and self-care into a sweet place of revelation and confession.
Kevin Tang, Davenport College
Kevin Tang is a math and computer science major and first-time playwright. He plans to continue writing even as he pursues a career in math and computer science. He believes programming and writing a script both require the writer to "know the skeleton of what [they're] trying to say and where [they're] going."
His play, Retracing Echoes, offers a look at love in both physical and emotional diaspora. Described as an investigation into the role of memory and people's relationship with remembering, the play explores a "bright nostalgia" that the author suspects most college students are familiar with, particularly seniors in college.
2020
Walker Caplan, Branford College
Walker Caplan is a young writer who precociously understands the relationship between comedy and suffering; who grasps that all plays are about love and all plays are about death, and everything else is subsidiary. Her beautiful comedy Winners looked gently and deeply at the school community surrounding a middle-school-aged yoyo prodigy who has died, as his classmates prepare for the school talent contest. The play was a Yale Dramat mainstage production, and melted many hearts, and made us see ourselves. Walker's thesis project in the major, Rumspringa is a moving work done in collaboration with a brilliant Yale composer, and again featured Walker's extraordinary gift of compassion. It deals with a young Amish girl's reckoning with her identity and that of her family as she approaches the rite of rumspringa.
Walker's study is scholarly and assiduous. She's an improv performer, and approaches the deepest aspects of playwriting with the imagination of the actor. Walker has been a consistent, active presence in the Yale theater scene, mentoring younger theater-makers, aspiring towards excellence as a comedian, writer, and performer. She will be a voice we will hear in many media for a long time to come.
Carrie Mannino, Trumbull College
Carrie Mannino has been recognized for an impressive piece of documentary theater. It Couldn't Happen Here: Squirrel Hill in the Aftermath is an artful dissection of a still-raw recent act of anti-Semitic terrorism, one that has personal resonance for its author. Carrie is a resident of the Squirrel Hill neighborhood of Pittsburgh and a member of the congregation of the Tree of Life synagogue, the target of the horrendous act that took place in October 2018.
Through a rigorous process that combined scholarship, dramaturgy, and journalism, Carrie sought to pay tribute to her community while trying to make sense of the inexplicable and, in doing so, hoped to create an accessible, moving, and important work of art. That she has succeeded to the degree to which this draft amply demonstrates is a marvelous achievement by a writer of any age, let alone a college senior.
2019
Alexis "a.k." Payne, Berkeley College
a.k. payne, an African-American playwright of extraordinary range and lyricism whose work we will be seeing for a long time to come. Her work is rooted in a scholarship of both history and imagination. a.k.'s characters are Black women dealing with oppression and sometimes joy; they are historical and fictional, they all struggle in diaspora for a language of home for the heart of the Black woman. a.k. payne has had the unusual and well-deserved honor of acceptance into the Yale School of Drama graduate program in Playwriting, rarely offered to very recent undergraduates.
Rachel Calnek-Sugin, Silliman College
Rachel Calnek-Sugin, a playwright whose tender first work, FLUSH, looked with insight, compassion, and tenderness at very young women in a high-school setting, that moment when young women come into a power that takes away their power; and whose next play asks questions about the women partners of male white supremacists, the lies they tell themselves; the playwright succeeds in finding both the banality and the humanity in them.
2018
Alexa Derman, Berkeley College
Alexa Derman, a theater and performance studies major, was the recipient of the 2018 Marina Keegan Award for Excellence in Playwriting. Using a fine balance of dramatic monologues and dark humor, Ms. Derman brilliantly explores and critiques urgent themes that are at the forefront of societal dialogue. Ms. Derman has been committed to writing plays since she was a high schooler. While at Yale, her work has gotten stronger and more impressive with each new play. Like Marina, she possesses a precocious talent. Alexa has made gender and popular culture her playground, finding new ways to explore the role of women in today's challenging world of technology and media. Her award-winning plays are about themes of individuality, sexuality, gender, and societal pressures that young people, especially women, are confronted with on a day-to­ day basis. Whether taking on American Girl dolls (as in Girlish) or American Psycho (as in Psychosexual), Alexa has demonstrated a preternatural sense of the exciting possibilities of writing for the theater.
A prolific creator, Ms. Derman's work has already been featured at the Cutting Ball Theatre, Fresh Ink, the Yale Playwrights Festival (2018, 2017), Runaways Lab Theatre, The Blank Theatre (3-time national winner), Young Playwrights Inc. (2-time national winner), Yale Dramatic Association, and the Yale Drama Coalition. As well as receiving the Marina Keegan Award, Ms. Derman has been recognized with the following honors: she was the 2015 and 2017 O'Neill NPC Semifinalist; the Jane Chambers Student Awardee for Feminist Playwriting Honorable Mention; Stage Left Downstage Left Residency Semifinalist; Echo Young Playwrights in Residence Finalist; Bay Area Playwrights Festival Semifinalist; Sanguine Project Playwrights Finalist; Kitchen Dog New Works Festival Finalist.
2017
Stefani Kuo, Pierson College
2016
Dave Harris, Jonathan Edwards College
2015
Eric Sirakian, Jonathan Edwards College
2014
Ali Viterbi, Branford College
2013